**This post was automatically retrieved from the UFC.com RSS Feed**
This is the original article:
http://www.ufc.com/news/Souza-ready-to-roll-in-Charlotte-after-returning-from-injury
By E. Spencer Kyte
**This post was automatically retrieved from the UFC.com RSS Feed**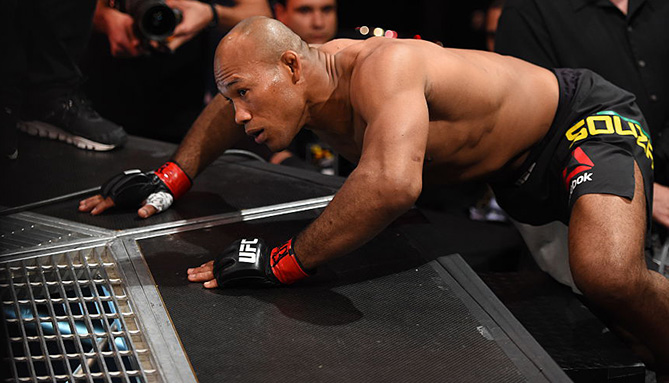 RELATED CONTENT: Jacare on Road to the Octagon | Free Fight: Souza vs Boetsch | Brunson relishing opportunity to fight in Charlotte
After nearly a decade competing at the highest levels in the sport following an illustrious grappling career, the former Strikeforce middleweight champion pondered packing it all in. Two surgeries in six months had left him demoralized and the prospect of getting back into fighting shape after an extended stay on the sidelines felt daunting.
"It was pretty hard to go back to training," admitted Souza, who kicked off his 2017 campaign with a first-round submission win over Tim Boetsch before falling to Whittaker two months later. "I was out of shape. I was fat. Getting back in shape was the hard part."
Eventually, Souza made the decision to continue, got back in the gym and much to his surprise, everything started to come together quicker and easier than he had anticipated.
"I went through two surgeries and to be feeling good, feeling healthy and to go fight again is God's will," said Souza, who currently sits at No. 3 in the middleweight rankings and carries a 10-2 record over his last 12 fights into this weekend's main event.
"I'm surprised the recovery was pretty fast, faster than I thought. I thought it would be more months that I would be out. I feel great. I did a great camp. I'm feeling ready to go and it's going to be a great fight."
Saturday's pairing with Brunson is not only an intriguing contest between two of the top middleweights in the world, but it's also a rematch, as the two squared off under the Strikeforce banner on what turned out to be the organization's penultimate show.
At the time, Souza was working his way back into contention less than a year after losing the middleweight strap to Luke Rockhold, while Brunson had impressed in his first three outings with the company and was taking a steep step up in competition squaring off with the former champion.
It didn't last long.
Roughly 30 seconds into the contest, Souza planted a counter right hand on Brunson's jaw, sending the Jackson-Wink MMA Academy representative crashing to the floor. As he staggered back to his feet, a grazing left hand from the Brazilian jiu jitsu ace put him back on the canvas, where Souza pounced and pounded out the victory.
Souza needed just 41 seconds to secure a victory the first time around, but a lot has changed since that initial encounter.
Brunson has gone 9-3 since matriculating to the UFC, including seven first-round stoppages and hard fought losses to two of the division's elite – the current champion Whittaker and the man who will challenge for the interim title again next month, Yoel Romero.
His only other setback during that stretch was a controversial decision loss to Souza's long-time friend and training partner, Anderson Silva, and the 34-year-old North Carolina native has since rebounded from that defeat with a pair of blistering stoppage wins over Dan Kelly and Lyoto Machida.
"The first thing that crossed my mind is that he's a tough guy," Souza said of Brunson when asked his initial impressions of the matchup. "I know he's a different (fighter), but so am I. We're both tougher than we were, so it's going to be a new match.
"It's going to be a great fight."
It certainly should be.
**This post was automatically retrieved from the UFC.com RSS Feed**
This is the original article:
http://www.ufc.com/news/Souza-ready-to-roll-in-Charlotte-after-returning-from-injury
By E. Spencer Kyte
**This post was automatically retrieved from the UFC.com RSS Feed**
Powered by WPeMatico
Comments
comments
Powered by Facebook Comments