Another Saturday night is on the horizon and another huge UFC event is upon us. Russian superstar Khabib Nurmagomedov will battle fellow top contender Tony Ferguson in the co-main event. They will be competing for the interim UFC Lightweight Championship.
In the main event, a rematch from UFC 205 will pit Tyron Woodley against Stephen Thompson. These two had a historic battle in New York back in November and they are ready for round number six. After their first fight ending in a draw,Woodley will look for his first successful welterweight title defense and Thompson will try to fulfill his destiny of becoming the new 170 pound king. 
I reached out to the pros and here are their opinions on this weekends UFC 209 main two fights. 
Steven Kozola: "Woodley vs Thompson is looking to be another great performance for these two powerful finishers! I see Wonderboy learning and growing a lot from the previous fight, more so than The Chosen One, leading him to a third round TKO and becoming the new welterweight champion! I can't wait to see Khabib and Ferguson go to war! Great fight for the sport and for the lightweight division for the number one contender spot and interim lightweight championship! Khabib is relentless in his grappling and wrestling while Ferguson is mentally prepared and has a very unique and unorthodox style of fighting. I see Tony grabbing a choke off a Khabib grappling error and tapping him in the 5th round."
Din Thomas: "I got Woodley and Khabib"
Albert Moralas: "I got Woodley by KO and Ferguson by something crazy,but that will defiantly be fight of the night."
Jimmie Rivera: "I want Wonderboy and Ferguson to win"
Irwin Rivera: "Both are tricky match ups. I can see Ferguson possibly winning by TKO in an upset because of his tricky style, but Khabib is a beast man. That guy's ground control and punishment is on another level, so I'll go with Khabib. In the main event,I love watching Wonderboy, I know it means more to him winning but Woodley is too much for him. If Woodley fights smarter by using more wrestling, then he will secure the win by decision."
Celine Haga: "Wonderboy and Khabib"
Sam Alvey: "Unfortunately I think Woodley is going to win, I'm a big Wonderboy fan however. Also I think Ferguson is probably the more complete MMA fighter, but I think Khabib is going to get this one."
Mark Henry: "Khabib and Wonderboy"
As you can see the pros are in complete disagreement for UFC 209. The main event was dead even and the co-main event was very close. These should be very competitive fights and I expect the crowd to be just as split as the pros are. Check the results below.
Stephen "Wonderboy" Thompson-4
Tyron "The Chosen One" Woodley-4
Khabib "The Eagle" Nurmagomedov-5
Tony "El Cucuy" Ferguson-3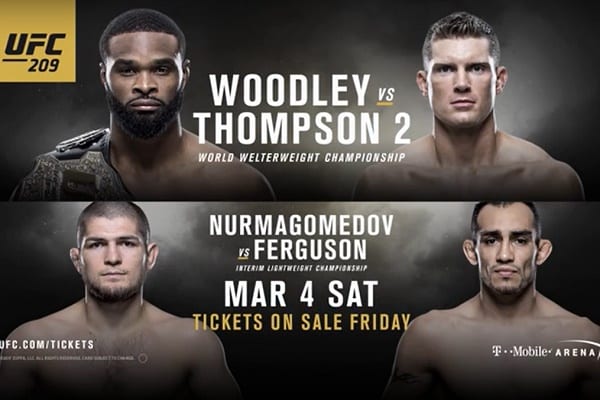 Who do you think will win? Comment below!
Comments
comments
Powered by Facebook Comments