The first UFC card of the year is just days away. UFC Fight Night: Phoenix will be held on Sunday January 15th at the Talking Stick Resort Arena in Phoenix, Arizona. The main event features the return of "The Prodigy" BJ Penn as he takes on Yair Rodriguez.
It's not a great card for straight money line bets so we're going to have to get creative if we wish to take advantage of any generous bookmaker's odds. With that said lets get to work.
https://www.youtube.com/watch?v=YZmxJOoh8p0
Yair Rodriguez vs. BJ Penn
This is one of those fights that I'm intrigued to see. The reason I've interest in what most think to be a one-sided fight, is that I think it will go further than most think. BJ Penn throughout his career has been a durable fighter. Rodriguez is fantastic to watch but lacks the power that would make you think a one quit hit is coming.
Penn is a legend. There's no other word that does his past justice. He's won UFC titles in two different divisions and also claimed a gold at world championship of level in Brazilian Jiu Jitsu. There is a key word in those last few sentences though: "past".
BJ Penn was once the most dominant lightweight the sport had ever seen. But since losing his belt in 2010. He's retired twice and only won one MMA fight. Just as he's lost his most recent three bouts, it looks like he is also losing the battle with time. The grappling and boxing that put him so ahead of the game faded.
When BJ Penn debuted in MMA, Yair Rodriguez was just 8 years old. 16 years on and the young Mexican has taken the UFC by storm. With his unpredictable style, Rodriguez has been undefeated in the Octagon. The excitement he brings to the cage with each fight is hard to measure. The air of the unexpected is always there and this may be a reason that Penn fans think there is potential for an upset.
Penn is fighting at featherweight for the second time. From what's been advised by his camp, his weight looks on point to make the division limit comfortably. It's worth noting as Penn has had struggles with discipline in that department previously even though he's never missed weight.
Rodriguez has spent his career at featherweight. He's largely got a style predicated on a Taekwando style where distance management is key. He won the Ultimate Fighter: Latin America to launch his UFC career. He's lost one MMA bout prior to entering the Octagon. Whilst he has been memorable, it should be pointed out that Rodriguez has two split decision victories inside the Octagon.
It's hard to guess what way this fight will play out. People talk about Yair's spectacular KO of Andre Fili but it's one of only three finishes in Rodriguez's career. One of the others was a submission. Penn is much more of a finisher of the two. In fact of his 16 wins, only three have come by the way of decision.
It's hard to predict what BJ Penn will show up. Having finally moved to a proper camp, whilst training with under Greg Jackson and Mike Winkeljohn at Jackson Wink MMA Academy. He's been outclassed by three world class fighters in his most recent bouts. The question you probably have to ask yourself to justify a bet on Rodriguez to decimate the legend, is whether or not Yair Rodriguez has the skills to join that company?
Selection: I'm staying away from a specific winner on this one. I'll take the over 2.5 rounds at even money from Coral or Stan James. 
Joe Lauzon vs. Marcin Held
This is a fight where I think a lot of people will be doing MMA maths based on previous opponents. At UFC 200 Lauzon ran through Diego Sanchez in less than ninety seconds. That's the same Diego Sanchez, that a few months later would beat Held in his UFC debut.
I would suggest ignoring their common opponents and get looking towards skills. I think both have serviceable stand-up but poor defence. Where they really excel is submission grappling skills. Both are adept at finding holes in fighter's ground games and are willing to risk losing position in the hunt for a submission.
Selection: This is a lot closer than the bookmakers originally priced it.  The money line on Held has dropped over the last few days to almost evens. For that reason I'd avoid the straight win bet and look towards the submission prop. It's 11/2 for Held to submit Lauzon which I think is probably his only avenue to winning this fight.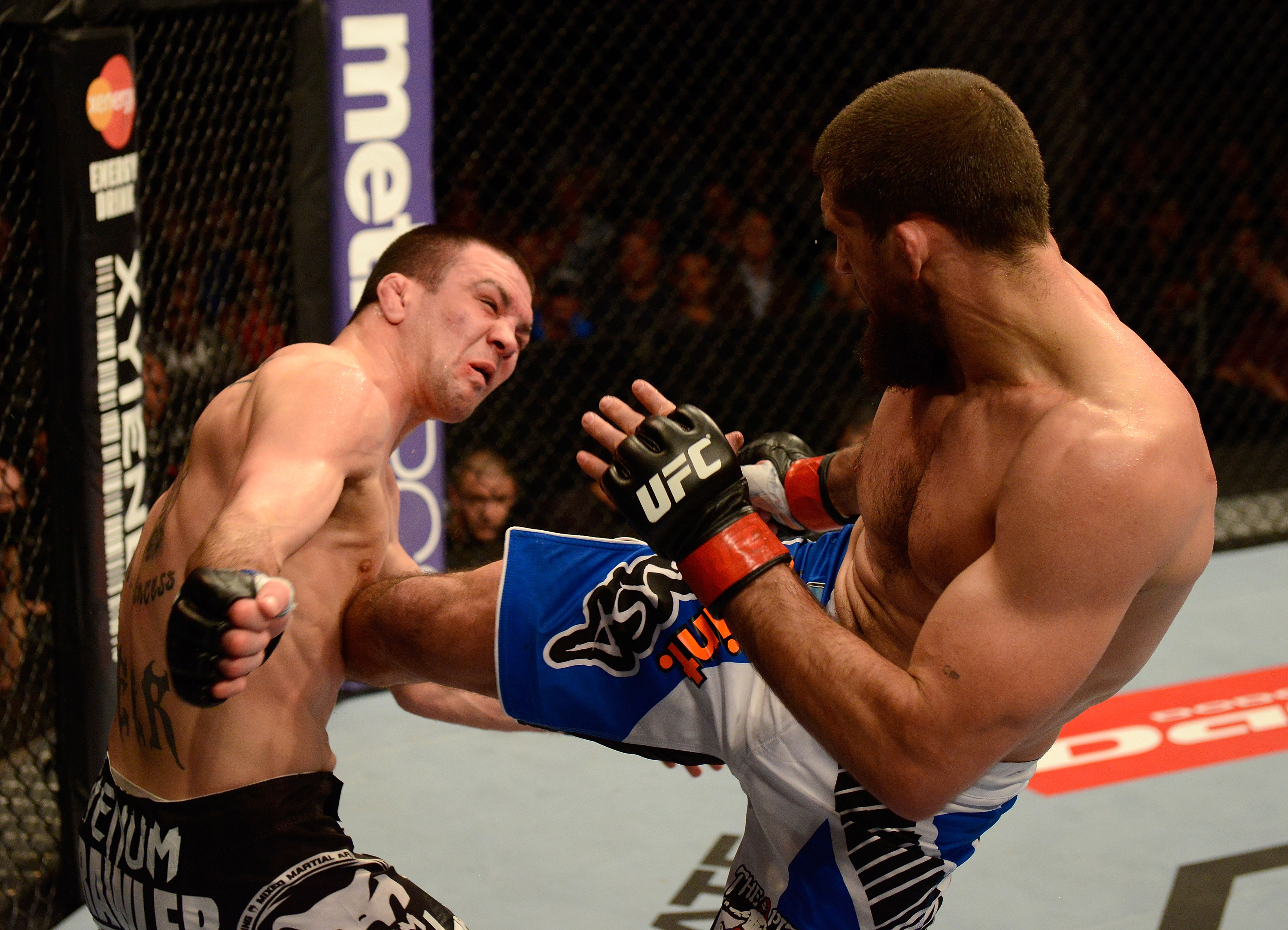 Court McGee vs. Ben Saunders
I don't quite understand the odds on this fight. I believe it's a bad fight for Saunders. He's quite slow to strike and despite his length and reach, he doesn't really utilise those physical advantages. He's most famous these days for his Muay-Thai clinch and his rubber guard.
People talk about Saunders grappling game but to me he's very one dimensional and his submissions have come against sub par opposition. I think McGee is not a low level of opponent. I think he's actually quite underrated but not at the upper level of welterweight talent.
He has excellent cardio, relatively good power in his punches and a work-rate that very few match. The former Ultimate Fighter winner has had a mixed time at welterweight. Don't count him out however. Following a two year break through injury, McGee has been 2-1 in his last three bouts. He's retained the positives that made him a prospect in his middleweight days.
Selection: I don't get how Ben Saunders was made a betting favourite for this fight. He's fought less quality opposition, he's fighting a guy that puts an output that he can't match and is very comfortable in the clinch. Anyone that says Saunder's clinch is excellent should watch the Cote fight. For all the talk of Saunders having a good ground game, it's predominantly from his back as he has terrible takedown defence. I'm taking McGee straight at Even money. I'm tempted to even look at Bet365's offer of 7/2 for him to win inside the distance. 
As ever these bets are just suggestions. Please do not gamble what you can not afford to lose. What do you think? Do you have any selections for this weekend? Let us know in the comments section or via Facebook or Twitter.
Comments
comments
Powered by Facebook Comments